Products

/ Fall Protection

/ Lanyards
Lanyard
BeamTeam has a distinctive Range of Restraint Lanyard, that can be attached to Harness, All Lanyards are Tested as per EN354:2002, and have minimum breaking strength of 22kN. Both the ends of all the Lanyards are covered with a transparent sleeve to make the splicing or stitching visible for easy inspection. Loops at both ends are protected by an abrasion resistant thimble to safeguard metalic contact with the rope. The rope is also equipped with a coloured tracer which which looses its colour in course of use and indicates the ageing of the rope thus declaring it unfit for use.
Meets: EN 354:2002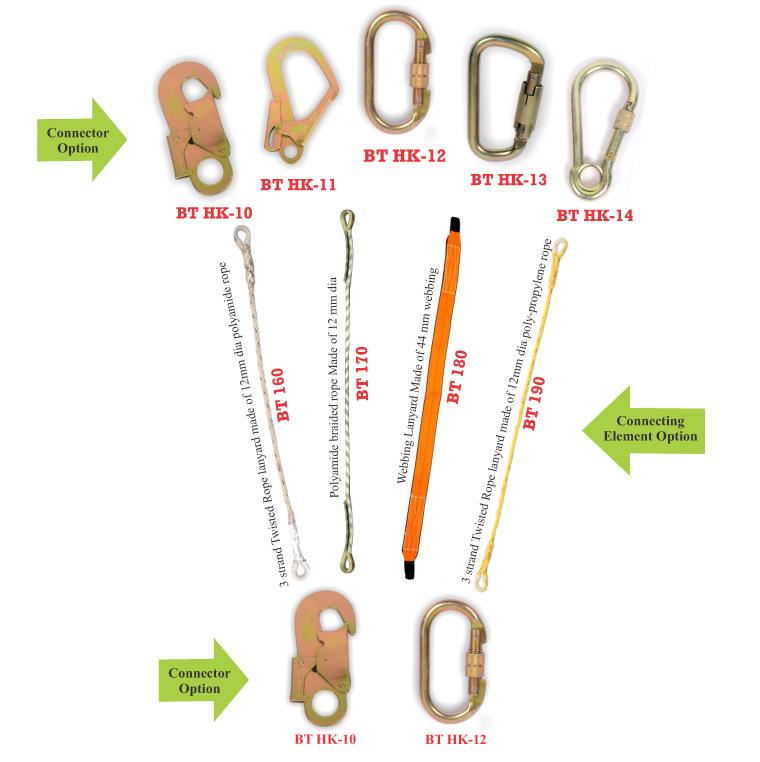 Any Combination of Hook can be attached to the Lanyard.
Energy Absorber
BeamTeam introduces Impact Absorber ,It is attached to the lanyard or fall arrestor to minimize the impact of shock in case of fall. It reduces the impact to less than 6Kn. It is essensial component of connecting system. Made of 44 mm tear webbing.
Meets EN 355:2002
Team recommends a safe clear distance of 6 mtr for Energy Absorber.
Forked lanyard with ENERGY Absorber
BeamTeam Forked lanyard comes in twisted rope,kernamental rope and polyester webbing.It enable to move in all direction while remaining anchored safely all the time.. available length 1.5 m,1.8 m,2m
Meets: EN 355:2002



Energy Absorber




Connector




Connecting Element










Connector